The new event will be held for the first time in 2017 in an extended area featuring several towns that symbolise the cradle of French Impressionism in Normandy.
You also can download the Competition Rules.
Highlights include:
A wide variety of vantage points for painting, inviting artists to explore Normandy's Vexin region—an embodiment of the country's Impressionist heritage.
The 2017 edition will feature the town of Andelys and the Château Gaillard plateau, the Pierre Bonnard's house and garden in Vernonnet, and the village of Lyons-la-Forêt, with its extensive market. Near Lyons-la-Forêt two private place the Castle Bonnemare and Abbaye Notre-Dame de Fontaine-Guérard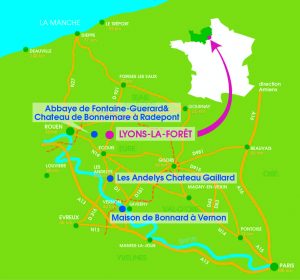 This year's theme is « Earth & Air ».
Everything will unfold below a summer sky
from 23-27 August 2017.
Three days will be set aside for painting (23-25 August 2017), with artists working outdoors in the four places used to host the competition. The work of selected professional and amateur artists will be on display at a large public exhibition in Lyons-la-Forêt on 26-27 August.
A prize-giving ceremony will be held
on 26 August at 6 pm.
Art lovers can attend a series of talks organized each evening with leading figures in plein air painting and other genres of contemporary art from different countries.
Terms & conditions:
The number of professional participants is limited to 70.
There is no restriction on the number of young/amateur participants.
Entry fees: €65
Entrants will be asked to pay a fee to sign up.
There will be no charge for visitors, whose votes will be used to determine the three "people's choice" awards ». Canvases must meet mandatory sizing criteria (100 cm x 100 cm) but artists are free to choose their own techniques.
Working from a photograph is not permitted.
Dates and times: 23 August from 10 am to 6 pm; 24 August from 10 am to 6.30 pm; 25 August from 10 am to 5 pm.
The exhibition will open to the public in Lyons-la-Forêt on Saturday 26 August at 4 pm, and on Sunday 27 August at 6 pm.
The prize-giving ceremony will be held on Saturday 26 August at 6 pm.
Phone for information +33 6 6191 23 98
Join our facebook group to know all actualities:
https://www.facebook.com/groups/ConcoursGrandFormat/?fref=ts
Share this event with your facebook friends :
https://www.facebook.com/events/390563014635432/
Take a look at our flyer and our map !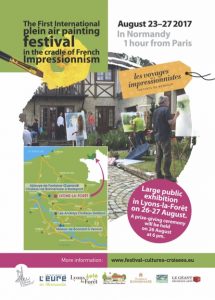 You are sure that you would like to participate, please complete the formular below,
you will receive the secure link to the page for payment by credit card.
---